Author Q&A- Rebecca Zanetti
Hi Guys,
I need to note that this interview was completed months ago. However, I got really really sick and it didn't get posted. So, I am posting now. I hope the Ms Zanetti will forgive me for the 4 month delay. And I hope that all of you enjoy it as much as I did.
Kim
New York Times and USA Today Bestseller Rebecca Zanetti is the author of over forty dark paranormal and romantic suspense novels. She lives in the wilds of the
Pacific Northwest with her own Alpha hero, two kids, a couple of dogs, a crazy cat…and a huge extended family. She believes strongly in luck, karma, and working her butt off…and she thinks one of the best things about being an author, unlike the lawyer she used to be, is that she can let the crazy out. Find Rebecca at: www.rebeccazanetti.com
Thanks so much Rebecca for joining me at Audio Lovers Blog! I have listened to almost all of your Audiobooks and enjoy them all, even tho they span several different genres and I enjoy every one as they come out. I have 1,300 Audiobooks including 32 of yours and I've borrowed 5 more on audible escape (which I would almost bet is more than any other author I own). While my other two author interviews have basically focused on one release coming out, this one is gonna ask a couple questions that go outside that specific release, because you have so many "balls in the air" I want to ask more than questions about one particular series.
Q- So, how do you navigate having multiple books in different series coming out in an almost overlapping timeframe?
A- I'd like to say that staying organized really helps, but I don't think I could call myself organized--LOL! I do write only one book at a time, and I use a music playlist for every book, so that helps too get back into that particular book whenever I need to do so.
Q- I'm gonna ask a question about a series that I stumbled onto while looking at audible escape a long while ago- Maverick Montana *swoons* because it almost seems like there's no supernatural angle at all. At least, if you don't take into account everyone's favorite shared spirit guide. So, who is Bob?
A- Well, Bob was just a fun dream guy who ended up on the page, and since the series isn't supernatural, he had to stay a dream guide. We kind of phased him out a bit as the series progressed, but I like to think he's still out there helping folks out.
Q- Blood Brothers went beyond the Sin Brothers and brought in some new characters that we all can't wait to get more of. So, is there more to come from this universe?
A- Right now, I'm letting the kids be kids, but someday they will grow up and probably get their own stories. I just have to figure out the next arc, you know?
Q- Scorpius Syndrome is the series that I own none of and I've read none of. What can you tell me about this series that I know nothing about?
A- Scorpius is a romantic suspense series that is still ongoing and is a lot of fun to write. The women are smart and strong, and the men are wounded and tough, and the world keeps blowing up around them. But they manage to fight, kiss, and fall in love, so it all works out in the end.
Q- Where is Dark Ops going next?
A- Well, we'll see about that. Raider and Brigid's story (Fallen) released last month *Sept 2019*, and Wolfe's story (Broken) releases in May, so Angus Force is going to need a story soon. He's spiraling a bit, even though Roscoe the wild puppy tries to keep him on the straight and narrow.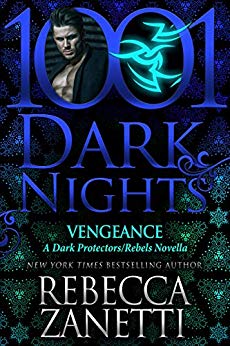 Q- A novella that I really loved here recently was Vengeance, which introduced an amazing Demoness that I want to know more about... are we going to see more of her?
A-You bet! Vixen is her story, and it will release next August. She has some serious surprises in store for the local police officer (a human, no less) who's dogging her heels.
Q- Quade is, obviously, coming home in Hero's Haven and Haven is going to find out that she's, obviously, not too nutty. Haven is going to have to stop running and Quade is going to have to adjust to a world that is nothing like the one that he has suffered all these years. Can you tell us something about this book that will make the wait a little more unbearable?
A- Well, I have to say that there was a lot more humor in Hero's Haven than I expected. Quade has been away for a lot of time, and there have been quite a few advances in the world. He fixates on a couple that might surprise you. :)
Q- Can you give a quote from Hero's Haven that will show us what we are in for?
A- Here's a quick quote:
"One taste of you won't be enough," Quade said, giving her the truth.
"That's all you get for now," Haven retorted. "Take enough blood to heal yourself but leave me whole. We're going to have to run again soon."
"You will cease this bossiness," he snapped, his blood beginning to burn for her.
"Not a chance." She leaned even closer. "Come on, big boy. Take a bite."
Thank you so much, Rebecca! I enjoyed our chat, even though it took half a year to get it published.
Kim
Links to series on Audible-
Scorpius Syndrome (Book 2 on Audible Escape)
Blood Brothers
Deep Ops
The Sin Brothers
Maverick Montana (First Two on Audible Escape)
Dark Protectors (A few on Audible Escape)
Realm Enforcers